A spectacular 333mm Japanese Damascus knife
---
---
The Shizukesa Damascus Santoku knife flawlessly combines the perfect mixture of traditional Japanese design principles with modern industrial-grade durability.
73 Layers of Stainless Damascus Steel
A razor-sharp cutting core forged down from a single bar of premium Japanese VG10 steel clocks in at 60 (±1) Rockwell hardness, guaranteeing a shocking level of performance and edge retention.

This VG10 core is then expertly insulated between 73 layers of industrial-grade stainless Damascus steel, which results in an exceptional level of strength, tone, durability, and stain resistance.
Exemplifies Efficient Design
The full tang is beautifully secured at the butt of the blade with a hand polished stainless steel pommel.

This pommel also brilliantly adds the perfect amount of additional weight back on to the shaft of the Pakkawood handle, producing a superbly balanced blade.
Traditional Japanese Resin Treated Handle
Upon the completion of shaping and polishing the blade, a Japanese protective resin is applied to the handle in a painstakingly meticulous 6-step process.

The resin creates a non-slip grip on the handle and ensures lifelong protection against any warping or staining.
---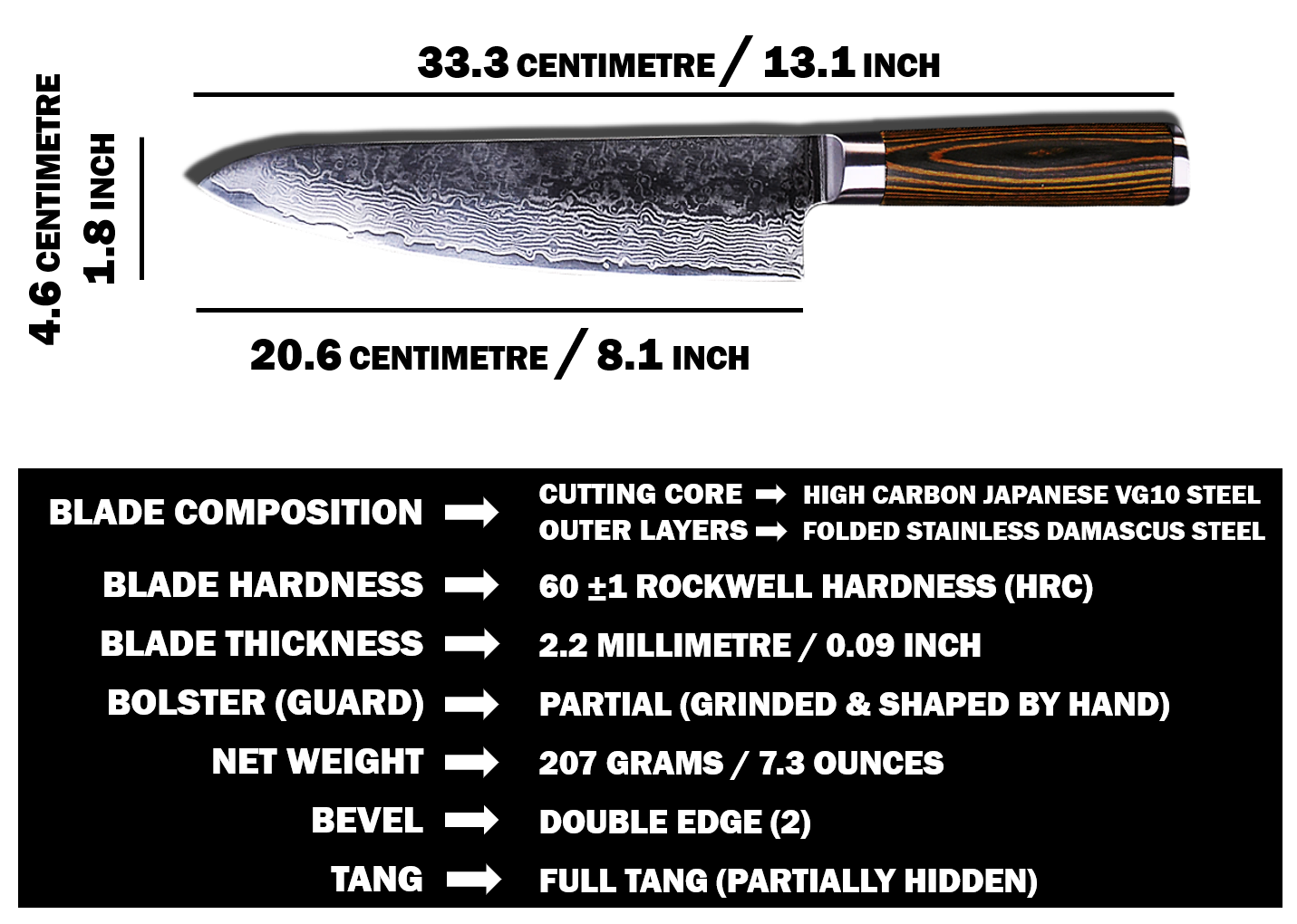 ---
Masuta's Certificate of Authenticity
We provide all our customers with a customized certificate as well as the appropriate papers and documentation that verify how your knife was made.

This includes where the different metals and materials were sourced from, and it states the name and location of the Knife Smith.

It also explains step-by-step the specific kinds of forging techniques and processes that were used to make your knife.

Plus, it includes the names and roles of all the different people who contributed to creating your knife.
Insured Parcels with Free Shipping & Complimentary Tracking
We know that you'll be very excited while waiting to get your special new knife!

That's why we process and ship all of our orders on the very next day.

All of our shipped parcels are insured and come with tracking numbers, free of charge.

Masuta Knife Imports also proudly supports Free Worldwide Shipping!
Already ordered your knife? Track your parcel on our website.
Our Renowned Lifetime Warranty
We proudly stand behind everything that we sell.

Any knife that's sold by Masuta Knife Imports (or any of our partners) is warranted to last through a lifetime of hard use.

We promise that if you show your knife the respect that it deserves, then it'll never let you down.

In the rare case that a blade or handle is damaged, we will be happy to either repair your knife, or send you a brand new one!

Please see our warranty page

for more info on how to get a knife replaced.
Hassle-Free 60 Day Returns
At Masuta Knife Imports, happy customers are our number one priority. We take pride in offering knives of the highest quality and craftsmanship.

If you are not 100% satisfied with your purchase, for any reason, then please send us an email.

We will be happy to offer you your choice of an exchange or a refund.

We also offer our customers an additional $10 refund credit.

We respond to all emails within 48-hours, and we always process returns immediately. Please visit our returns page for more information.
Carefully Packaged by Hand
All of our knives are shipped in protectively padded cardboard boxes.

This is to ensure that your blade stays safe on its journey to you.

Many of our customers also choose to use the original packaging to store their knives in between uses.
We perform extensive durability testing on all our knives before we agree to share them with our wholesale or online customers.

This is to ensure that we provide the highest quality products that will last the longest.

So, this means that if you're in a pinch, yes you can put a Masuta knife in the dishwasher. One gentle wash cycle won't be enough to cause permanent harm to the edge, handle, or tone of your knife.

However, please keep in mind that most dishwasher powders and detergents contain highly alkaline compounds such as trisodium phosphate.

Long-term exposure to these chemicals will eventually start to degrade the handle, and "decarbonize" the tone of your blade.

This is why professional Chefs always hand wash their knives.

We do provide industrial grade knives capable of withstanding commercial foodservice environments as part of our wholesaling business. Please

visit our wholesale page

for more information.
All of our knives are specifically forged so that they have a long-lasting, durable edge.

For a home cook, they stay razor-sharp for many months and possibly up to a year!

For a professional Chef who is using the knife multiple times a day, its edge can last for up to three-months between sharpening.

For the best results when re-sharpening, we recommend you use a series of whetstones with different grits. You can also use a sharpening rod of your choice.

Electric sharpeners are usually okay too, as long as they are high-quality ones.

Each knife also comes with a sharpening guide and recommended sharpening angles as part of the Masuta Certificate of Authenticity.
Our knives are built to hold a lasting, razor-sharp edge. Please remember to be cautious when using your knife and to keep children away.

We also take the time to pre-sharpen all of our knives by hand before we send them to you. This is so your knife will be able to shave through thin strips of paper right out of the box!

Although doing this is very fun and satisfying (we do it too), please remember to be careful and not to get too excited when you first get your knife. Masuta Knife Imports is not responsible for any injuries that may result from improper or unsafe handling of your knife.

All of our blades are beautiful and unique. However, they can also be dangerous, and they must be respected as such.
---
---